Visit our Gourmet Wine Cellar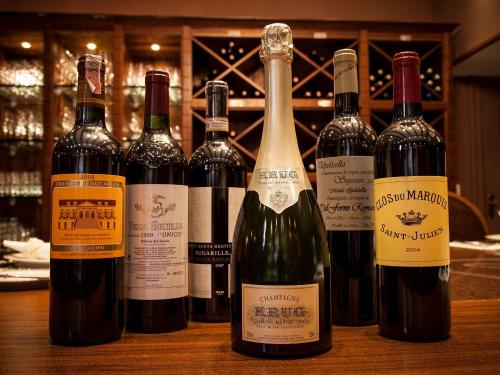 The area can be reserved for exclusive dining
The heated wine cellar keeps valuables. It is the perfect place to prepare, right there, a delicious dinner surrounded by friends and the best wines of Brazil and the world.
The pleasant and irreverent atmosphere of the wine cellar invites the guest to moments of relaxation savoring a good wine from the biggest brands in the world or another drink recommended by the sommelier, such as drinks and cocktails.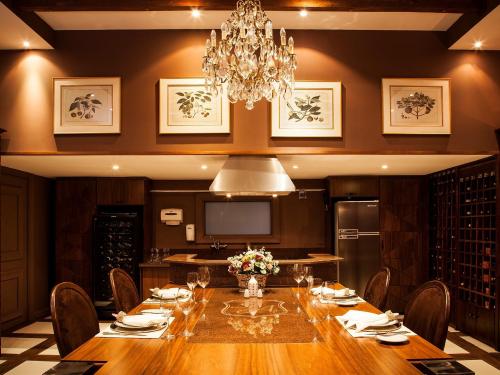 A wine cellar is home to more than 239 labels, including such gems as Chateau Mouton Rothschild and Brunello Di Montalcino.
The hotel chef can prepare a lunch or dinner for guests in a kitchen designed especially to offer an enogastronomic experience. Anyone who wants can exercise their skills by taking over as chef for a day.
Know a little of our wine list: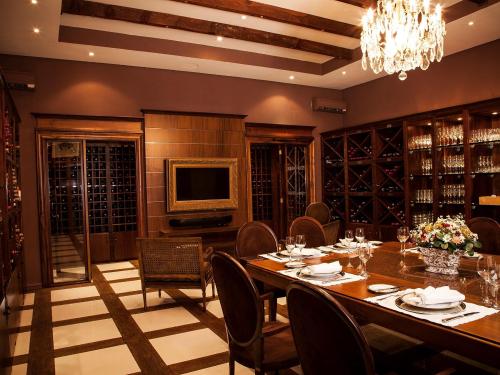 Brazil
Argentina
USA
France
Brazil
Vale dos Vinhedos
Casa Valduga Maria de Valduga Brut 2008 440,00
Casa Valduga Booking Moscatel 2011 220,00
Lidio Carraro Brut Gifts 200,00
Garibaldi
Chandon Brut Réserve, Assemblage NS 280.00
Chandon Brut Rosé 250.00
Excellence for Chandon Cuveé Prestige 350.00
Exellence for Chandon Cuveé Prestige Rose 400,00
Pinto Flag
Cave Geisse Terroir Rosé Brut 300,00
Serra do Sudoeste
Hermann Lyric Brut 200,00
Hermann Lyrica Crua Brut 280,00
Argentina
Mendoza
Vila Seca White Wine 2012 500.00
Catena Zapata Angelica Zapata Chardonnay 2013 550,00
Catena Alta Chardonnay 2013 650,00
Terraces Torrontés 2014 200.00
Luigi Bosca Riesling 2014 300.00
Catena Alta Malbec 2012 1.800,00
Catena Malbec 2012/2013 650.00
Catena Zapata Malbec Argentino 2008 1,150.00
Catena Zapata Adrianna Malbec 2012 1,700.00
Catena Zapata Reserved Stool 2006 4.000,00
Catena Zapata Angelica Zapata Cabernet Sauvignon 2011 500,00
Catena Zapata Angélica Zapata Malbec 2010/2011 750,00
Catena Zapata Alamos Selection Pinot Noir 2013 300,00
USA
Napa Valley
Paul Hobbs Cabernet Sauvignon 2005 3,970.00
Hess Select Cabernet Sauvignon 2009 760.00
Russian River Valley
Sequana Hess Sundawg Ridge Vineyard Pinot Noir 2009 1,960.00
Mendoncino County
Artezin Zinfandel 2010 760.00
France
Bordeaux, Pauillac
Château Pichon Réserve de La Comtesse 2ème 2008 1,160.00
Château Pichon Longueville Comtesse Lalande Grand Cru Classé 2003 10,800.00
Château Latour 1er Cru Classé 2001 15,600.00
Domaines Barons Rothschild Lafite Moulin de Duhart 2011 1,050.00
Château Lafite Rothschild 2008 18,600.00
Château Lynch Bages Gran Cru Classé 2011 6,000.00
Bordeaux, Margaux
Château Giscours 3ème Cru Classé 2006 1,560.00
Château Giscours 3ème Cru Classé 2009 2,000.00
Château du Tertre Grand Cru Classé 2000 2,150.00
Château Margaux 1st Grand Cru Classé 1998/1999 14,300.00
Bordeaux, Saint-Emilion
Château Larcis Ducasse Grand Cru Classé 2003 1,500.00
Le Secret des Grands Chefs Alain Dutournier Grand Cru 2009 4,900.00
Château Cheval Blanc 1st Grand Cru Classé "A" 16,400.00

* If you want, request the wine list in full, by e-mail: [email protected]
Meet the best restaurant in Gramado: